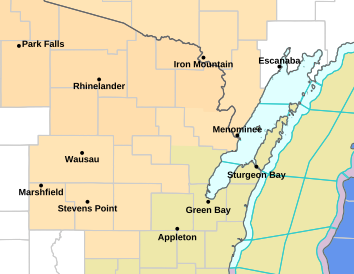 The National Weather Service in Green Bay has issued a Frost Advisory, which will be in effect until  9 AM Monday, for the counties of Kewaunee, Manitowoc, Brown, Oconto, and Marinette.
Temperatures as low as 30 will result in frost formation.
Frost could harm sensitive outdoor vegetation. Sensitive outdoor plants may be killed if left uncovered.
Most areas will see partial clearing in sky cover Sunday night, which will allow for a rapid drop in temperatures. If clearing is sufficient, a few spots in central WI may drop below freezing briefly before sunrise.
For Manitowoc and Kewaunee counties, frost is not expected near the lakeshore but may impact areas further inland.